F irst allow me to describe the images you see at the top of each page. On the left is a picture of the house and cabin that Casper built so long ago. It is still being used to this day. On the right is his mill, known today as the Stillwater Mill. In the center is his monogram copied from his tombstone.
---
We are searching for our German cousins!
Klicken Sie bitte hier, um ein besonderes Willkommen für unsere deutsche Cousins zu lesen.
We are desperately searching for a living cousin in Germany, who are as interested in genealogy and family history as we are. They could help us to develop our genealogy back beyond the birth of Casper Schaeffer about 1711 or 1712. We strongly feel that his family was living in the general vicinity of Worms.
Outline
---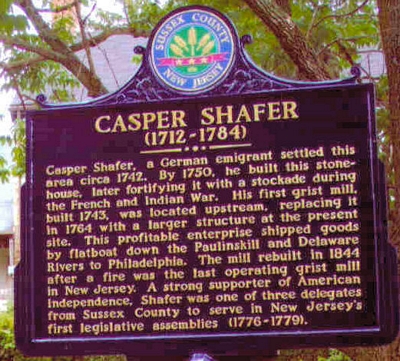 Casper Shaver's Marker
This sign, errected in 2005, in front of the house that Casper built, tells the essential story of my fifth great-grandfather Casper Shaver. His life, and the lives of all of his discendants, are the reasons this site was created.
Through the efforts of Judy Massardo, in June 2006, the marker was modified to show the correct year of Casper's death, 1784. Your work is most appreciated by this family, Judy!
Like all thumbnail pictures on our site just click on the little picture to see a full size view. Then click "back" on your browser to return to this page.
This site is dedicated to the memory of the first patriarch of this Shafer family in the United States. Casper Shaver (1712~1784) and his wife, Maria Catrina Bernhardt (1721~1794). Both originally from Germany; they settled at Stillwater, Sussex County, New Jersey, USA. Casper arrived in Philadelphia, PA. on 16 September 1738.
We do not claim to be the oldest Shafer family in America. However, I do feel safe in saying that we are among the oldest. Most know that Schaeffer's, in Germany are like Smith or Jones in the U.S.,they are every where.
We now have many thousands of Schaeffers, with different spellings, in this country. However, none of them are related to our line, as far as I know. I wish someone could prove this statement to be wrong.
Home Page
Provides an overall description of this web site.
Casper's Story
Tells about the first of our family to come to America.
Casper's Will
An exact copy of Casper Shaver's will.
Stillwater
Takes you on a virtual tour of the village that Casper helped to settle in the mid 18th century. It remains today, much like it was in the early 19th century.
Helen A. Shafer
About one of our famous educators.
William B. Shafer
About the retirement of one of our famous Civil War veterans.
Laurel Hill Cemetery
Pictures of the restored grave markers of our first historian.
Isaac's Descendants
This page shows many of his descendants with as many of their pictures as we could find.
Veterans
Lists all known veterans who were honorably discharged. It shows their branch of service, their relation to Casper, Rank, and dates of service.
Genealogy
Holds all of the known descendants of Casper Shafer.
Announcements and Updates
Contains announcements to the family and a record of the changes (updates).
See our 2005 reunion pictures here.!
Contributors
To thank and acknowledge each contributor to this family web site.
We hope you will enjoy your visit. Please contribute your Shafer genealogy. Don't forget to update it for each birth, marriage or death Most importantly please tell us of any and all errors you find.
---
"Home Page"
---