T hose of you who are new to this site and this family are probably wondering what is so important about this man. Why are we devoting a page to him? The answer is simply because he was so important to our family He was our first historian, who late in his life traveled all over the hills at Stillwater, trying to develop our family history. His travels and discoveries were documented in a hand written journal. Fifty years after his death, these hand written notes were published as Memories and Reminiscences.
His notes were compiled and added to and published by Senator William M. Johnson. Himelf a Shafer through his mother'a linage
I was so disappointed the first time I saw his burial site. All four stones were lying face down in the mud and dirt. Through some generous contributions we were able to raise the funds to have them reset on a new permanent base.
Rev Casper Schaeffer M. D.
Our first historian. His final resting place.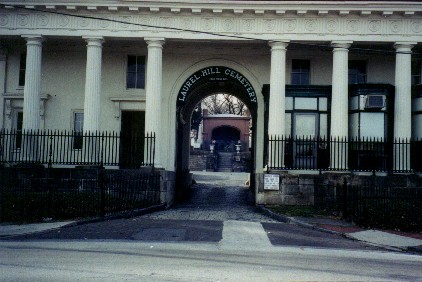 The main entrance.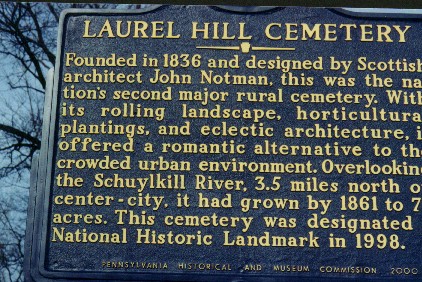 Sign near the main entrance.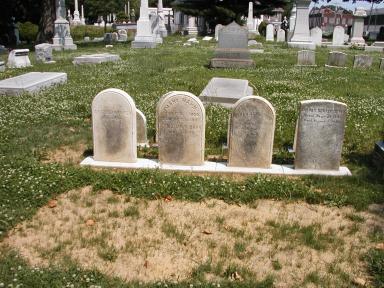 The restored grave markers
---
While there are only four markers, there are actually six graves here: ! and 2 are single graves; 3/4 and 5/6 are both double graves.
1) Rev. Casper Schaeffer M.D., age 76,
Burial 15 Dec. 1857
2) Sarah Maag Hahn, age 91,
Burial 23 May 1876
3) Elizabeth Kember age 74,
Burial 15 Jan 1892
4) Sarah Kember age 75,
Burial 25 Jan 1924
5) Mary Hahn age 78,
Burial 14 Oct 1887
6) Christian W. Hahn age 79,
Burial 16 Apr 1889

---
"Laurel Hill Cemetery"
3822 Ridge Avenue
Philadelphia, PA
(215) 228-8200